Something Tasty for the Disco 3...
Originally Published: January 2015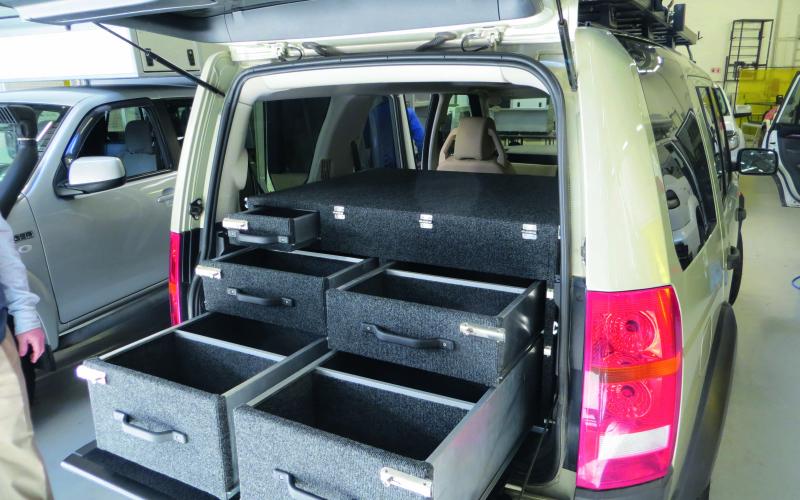 <
>
New from Alu-Cab, this time in its range of storage drawers, is this exceptionally tidy installation for the Discovery 3. The company makes its drawers from, you guessed it, aluminium, and this means they're light in weight as well as being strong, tough and durable.
Being designed in South Africa with heavy-duty off-highway use in mind, the drawers and in particular their runners are built to withstand the sort of dust and water that gets everywhere after a while - as well as the sort of water that hopefully won't but you never know. All this while carrying their maximum load, which, given what expedition driving is, won't exactly be on the featherweight side.
The tops are made from 12mm waterproof ply and lines with a heavy-duty nylon carpet that won't turn out to have worn through first time you unclip the ratchets on the tool box you strapped into place on top of them. The drawers themselves, meanwhile, are secured by lockable self-latching stainless steel catches, and can be removed altogether for cleaning or use away from the vehicle.
Alu-Cab offers drawer systems in short (750mm), medium (1230mm) and long (1420mm) sizes, and as you can see from these pictures of the Discovery installation you can put them together in various sizes to create whatever storage set-up you require. Once again, the place to go to find out more is xs4x4.parts.
STORAGE SOLUTIONS, LAND ROVER DISCOVERY, XTREME SALES, ALU-CAB
Share this article