K&N Promises World-Beating Performance From New Orion Intake System
Originally Published: April 2017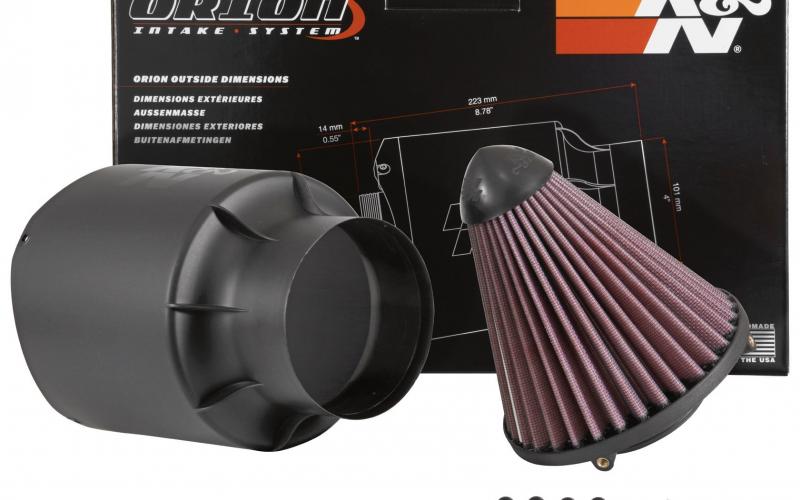 <
>
PERHAPS THE MOST COMMON modification among all the vehicles we've featured down the years in TOR is the addition of a K&N air filter. These take many shapes and forms, but in recent years the company has moved beyond making just filters and moved on to offering complete air intake systems. 
The latest of these is the Orion. Successor to the well known Apollo set-up, this was designed with the simple goal of working better than any other universal intake system currently on the market. It does this by allowing for the maximum possible air flow in the available space – which, engine bays being what they are, isn't very much. 
The system has a housing whose shape is designed to dovetail with the K&N High-Flow air filter inside to maintain the minimum possible amount of pressure drop through the assembly. The filter itself has a domed top and a radius flange on the inside bottom to maintain intake air velocity. With an intake diameter of 100mm and a filter outlet of 76mm (that's 4" and 3" in old money), K&N says the assembly will provide the maximum air flow in a small package space. 
A useful feature is an quarterinch NPT threaded hole in the base of the filter, which allows for various vent adaptors to connect any type of breather system – such as crankcase ventilation, diff and transmission breathers and so on. In addition, a variety of accessories on offer includes a 60mm cold air hose kit, vent adaptors and a saddle bracket universal mounting kit. If you can hold on for just a little longer, you'll also be able to get a soon-to-be-launched 70mm cold air hose kit with housing adaptor and intake trumpet. 
Once fitted, K&N says your engine should produce greater power and torque. The Orion system includes a washable, reusable High-Flow air filter, comes preoiled ready for installation and can be fitted without any modifications to your vehicle's fuel management settings. It's all covered by K&N's trademark Million-Mile Limited Warranty, too. 
The Orion intake system is available to order now from throughout K&N's dealer network. The manufacturer's recommended price is £150 plus VAT, so it's time to shop around: www.knfilters.com would be a good place to start.
Share this article