Pedders Adds Patrol to +4" Range
Originally Published: December 2013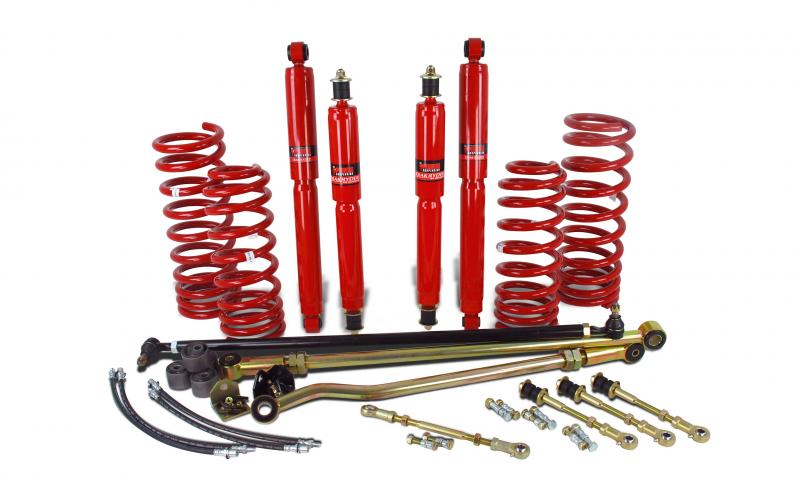 <
>
Elsewhere on this website, you'll find us talking about Pedders' new +4" suspension kit for the Toyota Land Cruiser. Well, the Aussie company has also just launched a similarly sized set-up for the Nissan Patrol.
Like the Land Cruiser kit, this is more than just a springs and shocks job. It's designed to give you everything you need to lift your vehicle then drive it (as opposed to lifting it then scratching your head about why nothing else on it fits any more) – in Pedders' words, 'simply fit the parts, get the vehicle wheel aligned and you're ready to go!'
Suitable for GQ and GU models alike (you might know them as Y60 and Y61, or just as the last one and the one before it), the kit comes in ABS and non-ABS form. Whichever you choose, the box will include +4" extra heavy duty coil springs, long-travel 40mm bore foam-cell shock absorbers, anti roll bar extended links, adjustable panhard rods, alignment products, extended brake hoses and all the chassis parts you'll need. 
What you don't get are longer suspension and steering links, and the kit doesn't include an uprated steering damper. These are available as options, however – and if you're going to stump up for a 4" lift, why on earth wouldn't you want to make the most of what it'll offer?
Pedders' reputation has come on in leaps and bounds since the brand launched in to the UK a couple of years ago. We've got its springs and shocks on our Land Cruiser, and we reckon that a Patrol with the +4" set-up in place sounds like the makings of a truly formidable off-road machine. To find out more, head for www.pedders.co.uk.
LIFT KITS, PEDDERS, SHOCKS, SPRINGS, NISSAN, NISSAN PATROL
Share this article