Trailmaster launches Black Edition Suspension for JK Wrangler
Originally Published: October 2016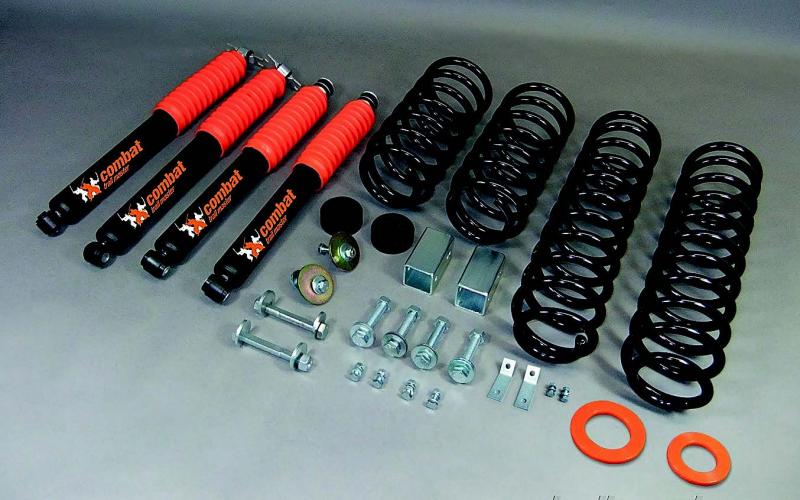 <
>
This all sounds very special forces, elite, black ops. What we have here is the Black Edition by 'Trail Master by Maas' for the Jeep Wrangler JK combat suspension.  Just reading that ought to raise your testosterone level (if male) by double-digit percent.
'Trail Master by Maas' is a German company and one of Europe's leading makers of off-road suspension. The kit is designed, made and sold for the European market, which has higher standards than say the US or Australia. And what the Germans don't know about making things from steel would fit on a one-Euro coin (current approximate value equals £5.00).
As the name implies, the Black Edition features everything in a colour which is the opposite of white.  The whole system provides a lift of
+50mm, and the benefit of buying from this company is that they supply absolutely everything you'll need to fit it, apart of course from patience and basic dexterity.
The whole shebang is there, shocks, coils, bump stop adapters, brake lines and mountings, mounting screws for the panhard rod, and
much more. All painted in hardened black. The kit fits a Wrangler JK from 2007 on, and covers petrol or diesel models, two or four-door – each kit is carefully calibrated for the model it's designed to go on.
The price for all this is €1164 plus VAT, and as you can tell from that we're talking about Trailmaster's own price rather than an importer's To
find out how you can get in the black, check out the company's website at www.trailmaster.de and decide if you want to read in German, Dutch or English. Or a combination of all three. Hey, what is life without whimsy.
Share this article