Trailmaster Lifts for Current-Model L200
Originally Published: August 2013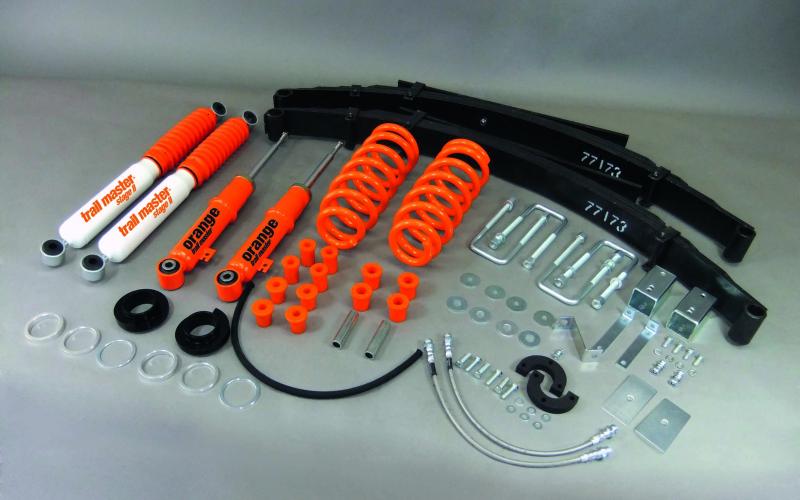 <
>
We've previously told you about Trailmaster's latest suspension kits for the Jeep Wrangler JK. Well, the company's more than just a one-trick pony, and on top of these it's announced a new range of lifts for the latest-generation Mitsubishi L200.
These hike the vehicle by approximately 2", 2.5" and 3" respectively, once the translation from metric is taken into account, and all are adjustable through a range of 10mm to take account for settling due to the addition of winches and so on. All use the same technique up front, with Trailmaster's own strut and lift spring combo mounted using an included coil-over kit and backed up by spacers for the ball joints.
At the back, the 2" lift is achieved using simple blocks under the original springs, though these are controlled by Trailmaster's tuned Stage II shocks. The same dampers also feature on the bigger lifts, though both of these are achieved by replacing the springs themselves rather than just spacing out what was already there. The kits also include extended hoses for the brakes and diff breather at the back, putting a pretty comprehensive set of parts into one purchase.
It's still relatively rare to see a late-shape L200 being modified for off-road fun and games, but prices are definitely getting towards the point where it becomes more interesting for more people, so Trailmaster is bringing this new set of products to the market at the right time.
Interested? If you're thinking of modding one of these ever-popular trucks, you should be – and if you weren't, now might not be a bad time to start. Pay a visit to Trailmaster's own website at www.maas-group.com, and let them persuade you…
LIFT KITS, TRAIL MASTER, MITSUBISHI L200
Share this article