4x4 Overlander Releases New Wheel Carrier
Originally Published: July 2014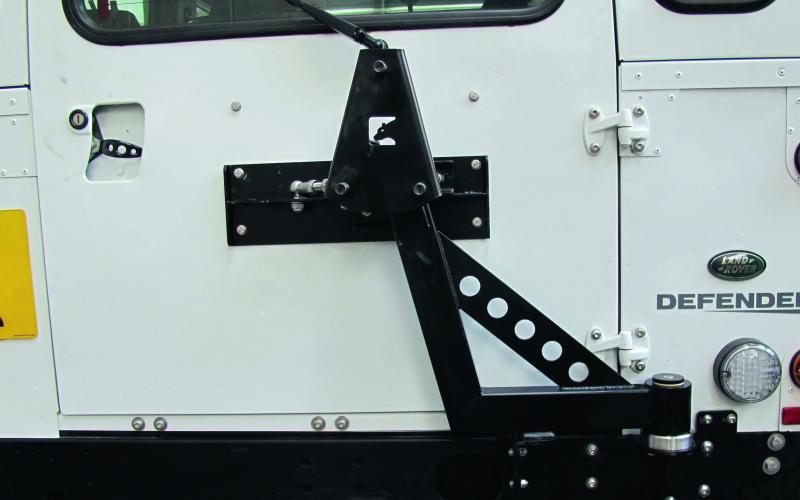 <
>
It doesn't take much in the way of a larger-than standard spare wheel to turn the back door of an old Defender into a thing that sounds like it's coming apart at the seams. Our own editor used to run a 300Tdi 90 van on (gasp) 235/85s, and after a couple of year the cabin was filled with an ever-present cacophony of cracks and rattles.
Now that 90s and 110s routinely tool about on much larger rubber than that, swing-away spare wheel carriers are a common sight. This latest design from 4x4 Overlander won't change that, either.
With a braced arm and stainless steel construction, the carrier uses a single pivot that takes all the stress off the rear door hinges. These take tremendous punishment when the door is used unsupported to mount a heavy spare tyre, and the 4x4 Overlander carrier bypasses the problem altogether.
The unit is fitted without needing any holes drilling in the bodywork. All you need to do is enlarge the two 8mm holes in the rear crossmember to 10mm to allow the required clearance.
The carrier will take a tyre of up to 33" in diameter and is compatible with a NAS rear step. Its design features two stainless steel ball joints in the connecting arm, and it's supplied with a stainless steel fitting kit and anti-seize paste to prevent cold welding of the stainless nuts and bolts.
Prices are £570 with a black powder-coated finish, or £525 in naked stainless, in each case including VAT. To find out more, visit to www.4x4overlander.com.
LAND ROVER DEFENDER, SPARE WHEEL CARRIERS, 4X4 OVERLANDER
Share this article