Burning Rubber
Originally Published: October 2019
Words: Mike Trott
Pictures: Mike Trott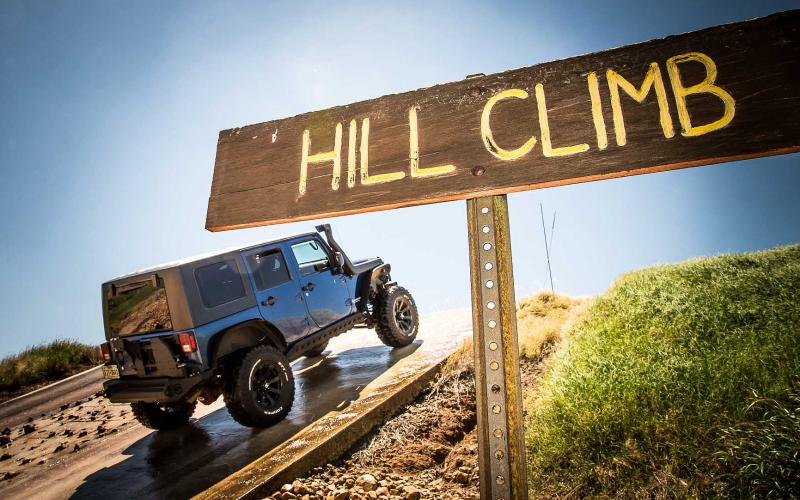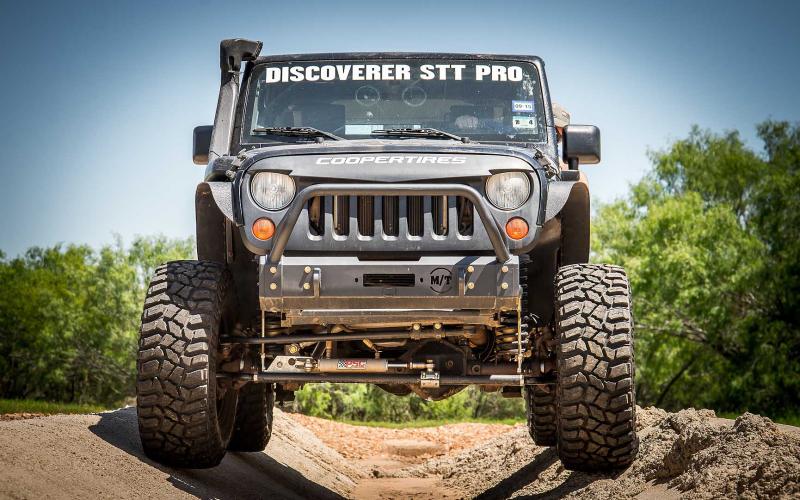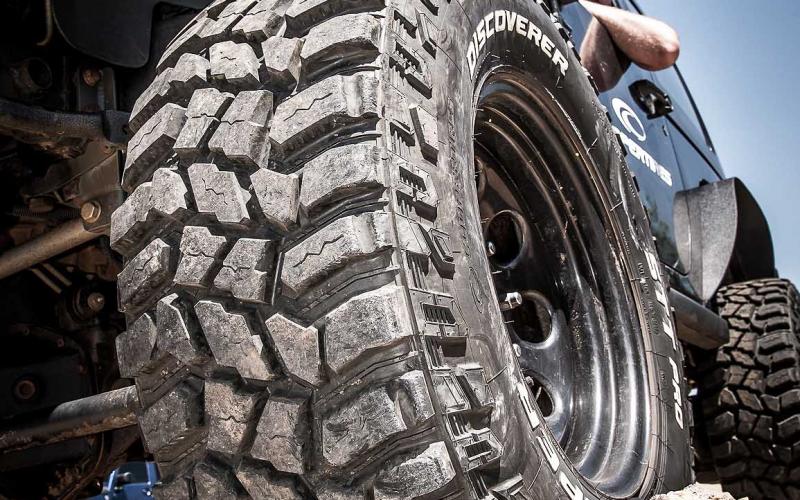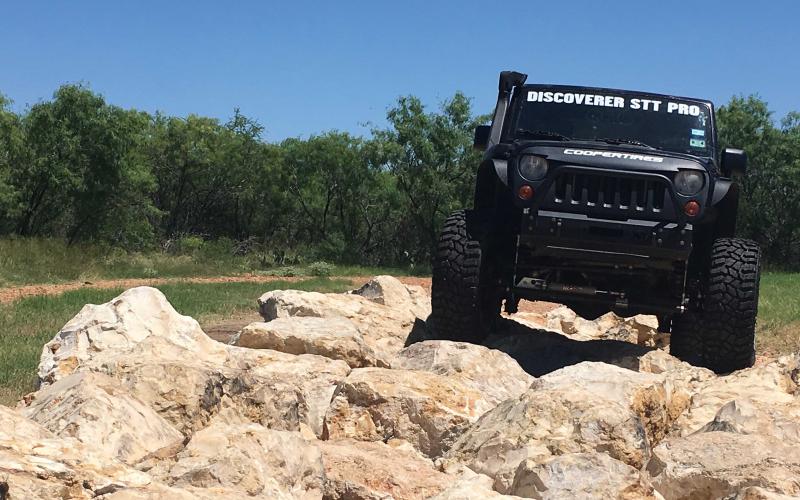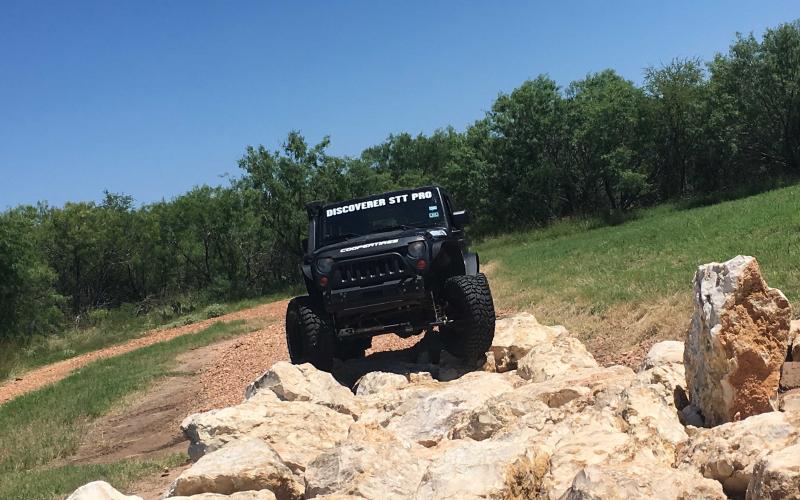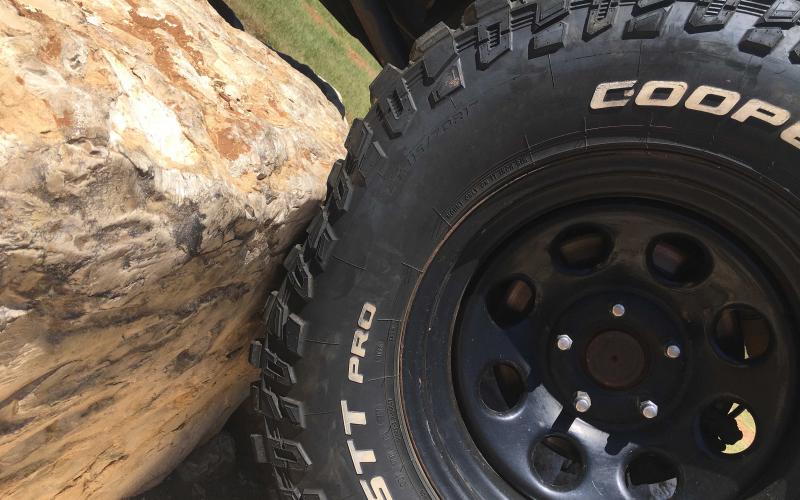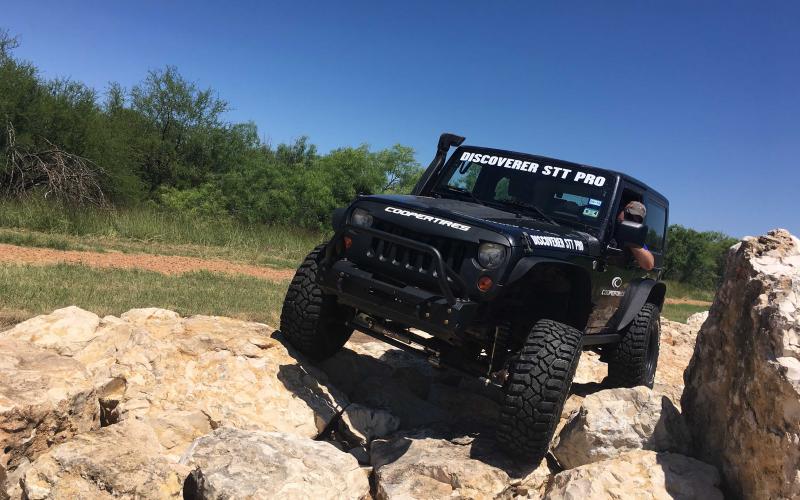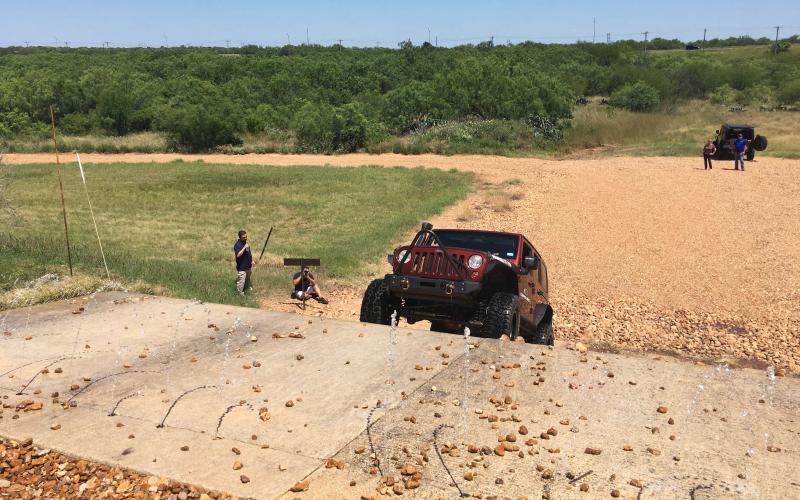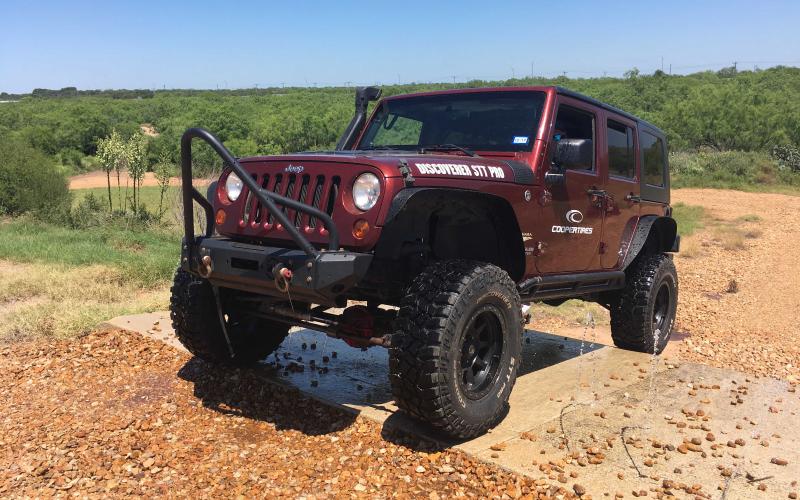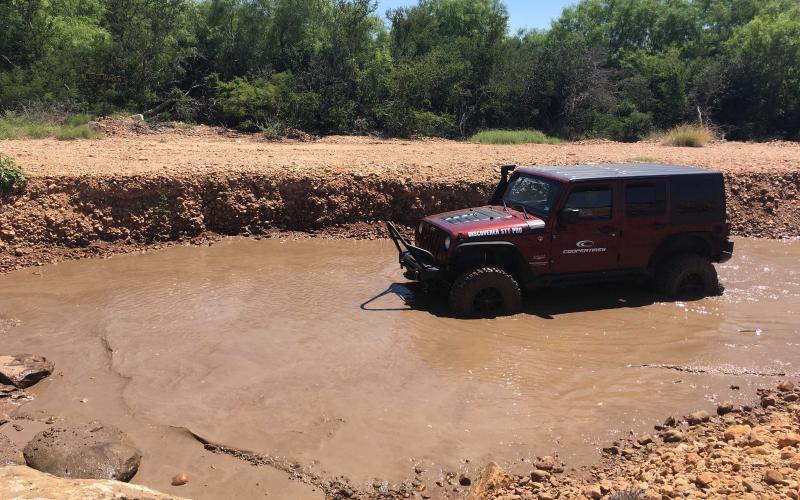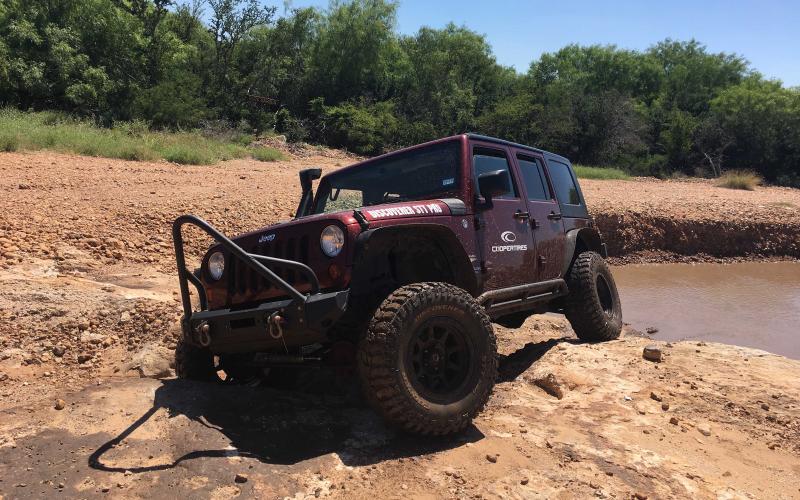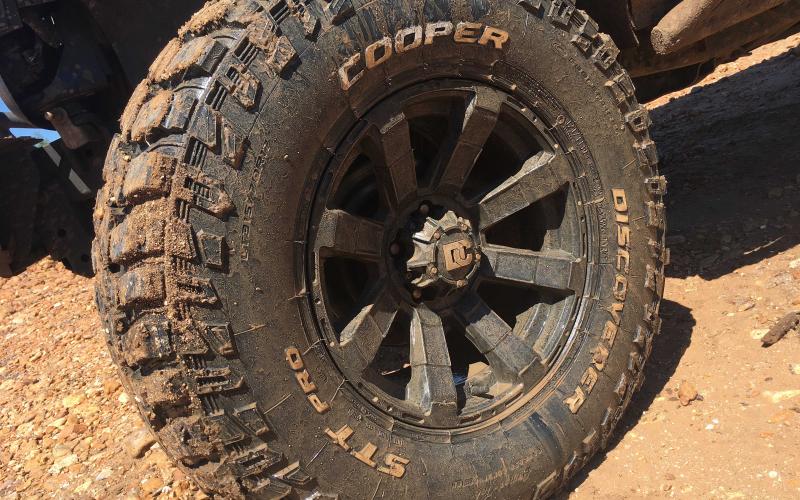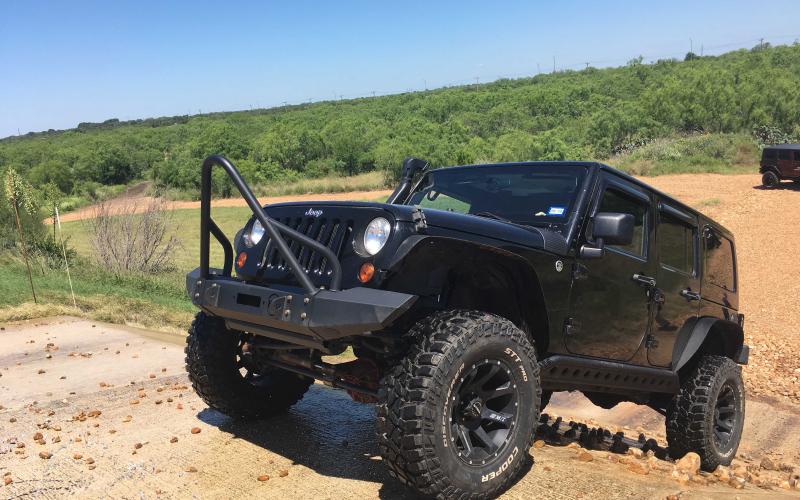 <
>
first featured in 4x4 magazine, october 2018
In the burning heat of southern Texas, just outside San Antonio, lies the Cooper Tire Vehicle Test Center. This is where products like the Discoverer STT Pro are given the sort of punishment it takes to ensure that by the time they reach you, there's nothing about them that hasn't been honed to the ultimate degree.
Basking and unmoving in the searing heat of the midday sun, a bull snake soaks up some vitamin D and looks considerably cooler than the frazzled mess that stands a wise distance away.
I am that mess. And despite looking like I've just stepped out of a nice, cold shower, I feel like a penguin standing in the Sahara.The reason the bull snake is probably dying from laughter inside is because I'm stood out in the open, deep in the south ofTexas. And it's 27 degrees... in the shade.
I'm not just doing this for a tan, though. So while the bull snake holds my attention for a moment, my mind quickly switches back to the task at hand.
I'm about to climb into a Jeep Wrangler belonging to the Cooper Tire and Rubber Company, a firm that doesn't do things by halves. Which means this is about as extreme a Wrangler as you'll see anywhere, with a whole catalogue of off-road modifications turning it into one serious machine.
And why climb into such a beast? Well, approximately one hour's drive from San Antonio in Texas, there's a place not far from Pearsall designed to put some of the most important automotive components on a car to the sword.
We're talking tyres. Specifically, we're talking Cooper Tire's tyres (if you follow). If you've owned a 4x4 for any amount of time and intended to take it off the beaten track, you'll most likely be familiar with some of the rubber offerings from Cooper.
They have a very good reputation, which I should add is utterly deserved. But this is a company looking to diversify – and we've come to its testing facility to see just how rigorous the examinations can be for a tyre,
should it dream of wearing the Cooper name tag.
You'll likely have come across Cooper's Discoverer range, the SUV and off-road orientated products that have become synonymous with the Cooper brand. But the company is capable of putting tyres together that can cope with more than just muddy trails or a slope of slippery rocks.
And its Vehicle Test Center sheds light on that. This 1000-acre site, complete with tanning bull snake, is a purpose-built haven for putting tyres through their paces – and that extends to all manner of surfaces.
On the one side, you have a two-mile oval circuit, also incorporating a Noise, Vibration and Harshness Ride Road, comprising surfaces that have been deliberately reproduced to mimic some of the many imperfections you're likely to face on tarmac. Being from the UK, this stretch actually felt silky smooth...
Water is pumped around the periphery of the huge square of asphalt and with the help of the most minimal of gradients, the water pools to the centre to give you one giant puddle – ideal to test tyres in an aquaplaning scenario. 
Elsewhere, Cooper has a specific area for trialling tyres on wet ground, which from up above just looks like a square lake.Thankfully, there is no risk of drowning here, as the water only measures a centimetre or two in depth.
A hot stone's throw away, you have the dry handling track.There's not much to say here other than that it resembles a racetrack, and if you ever find yourself in the passenger seat of a Shelby Mustang GT350 commandeered by their pro-driver Ryan, then you best have brought spare underwear with you. He seems like an amicable bloke at first, but then turns into a lunatic behind the wheel. Must be the heat.
All of these test areas provide a fitting canvas in which to paint some rubber. Interestingly, Cooper is happy to hire out these various circuits to other tyre manufacturers, should they be looking for a venue to collect some data of their own. So, for those of you out there who own a tyre company, give them a ring and start packing your sun cream.
However, while their generosity may extend to Lake Cooper or the dry handling asylum, their off-road course is strictly out of bounds to anyone other than Cooper personnel.
You see, while they are happy to allow competitors to dawdle along their potholes or go for an aquaplane, Cooper recognises that they need to protect what is effectively the company's cornerstone in business.Why would you give rivals access to your off-road course when it's helped you become one of the industry's most revered brands?
Perhaps some context would be useful here. Cooper Tire is the world's 12th largest tyre manufacturer and the 5th largest in North America. It still deals most heavily in tyre replacement but has a growing OE presence, as well as a growing repertoire of products. For example, while these may not be appearing on your Ford Ranger anytime soon, it's worth mentioning some of Cooper's other stars. On the raging Mustang, they've been extensively testing the new Zeon CS8 and Zeon CS Sport tyres, both designed with performance in mind and capable of astounding grip and response on the limit – useful when you're hurtling sideways around the track and there's a distinct lack of toilet roll available.
One thing that stood out on our visit to Cooper's test facilities, though, was how the company differentiate between SUVs and 4x4s. In what seems to be a refreshing approach to the industry, Cooper realises that there is a difference between those who want to do hardcore off-roading in a four-wheel drive machine, and those who just want to get to work in the morning in a vehicle that has four- wheel drive.
As such, the company offers SUV-specific rubber like the Zeon 4XS Sport tyre that we sampled on a Chevrolet Tahoe.This big seven- seat SUV carries a 5.3-litre V8 chucking out 355hp and has won accolades in the USA for its highway fuel economy... of 23mpg.
We put it up against another Tahoe – which was instead fitted with a competitor tyre. On a coned course around the wet handling patch, it was the Cooper 4XS Sport that provided the most grip.This was the tyre that could be pushed further before letting slip – and which consequently yielded the faster lap times around the circuit.
This isn't coincidence. Cooper strives for and prides itself on many of its tyres being EU certified grade 'A' for grip on wet surfaces, including the 4XS Sport.And part of the reason why they're achieving the best ratings is because they only compete against Tier 1 competition – essentially, the very best offerings on the market. What on earth would be the point in aiming to be mediocre?
Marion Waltz, Cooper's Global Testing Manager, says the company has worked hard on the predictability of its tyres, covering more than 30 million indoor test miles in 2016, with much of this progress stemming from the improvement in raw materials and the mixing technology it employs.The more rigorous the testing, the  better the understanding it has of its tyres – and the quicker it can get its products to market.
But Cooper is always looking to push the boundaries in terms of what is possible with a tyre. Enter the Discoverer STT Pro. If you head to Cooper's website, you'll see the STT Pro is rated at 85% off-road to 15% on-road, making it the company's most extreme tyre.And on a tour of its phenomenal off-road course, covering mud, sand, rocks, side slopes, climbs, descents and anything else you can imagine doing off-road, the STT Pro was nothing short of astonishing.
This is a tyre that forces you to rethink your expectations of what a road-going tyre can do. It gives you traction in places you didn't think possible and is able to sustain excruciating punishment. Heading up a steep incline with a river of water flowing down underneath the tyres, the Wrangler and its STT Pros were able to roll back and regain traction, just for the fun of it.If you're heading off-road, don't assume you need a loony-tune tread until you've experienced these beauties, because this is all the tyre almost any of you will ever need. Even the bull snake was aghast.
On the rock crawling section, you can see how the aired-down tyre moulds around the terrain, clutching on to it like a climber's fingers and using it to pull the vehicle up and over the huge hurdles. It's quite something.
The impressive thing about Cooper's products, though, is they aren't just built for results.They're built for lasting results.We've used enough of them in the past to know that this is more than just an idle claim – and having now visited the company's Vehicle Test Center in Texas, we know that bit more about what it takes to create a truly world-class tyre.
Share this article