The Future's Orange
Originally Published: January 2005
Words: Alan Kidd
Pictures: Alan Kidd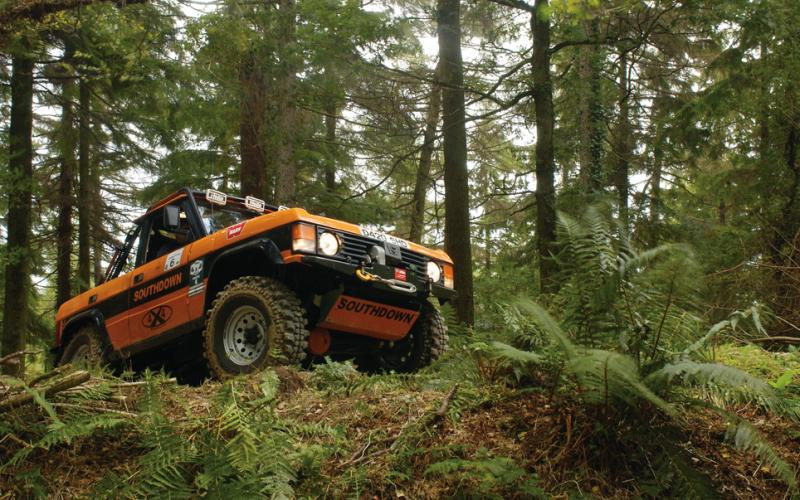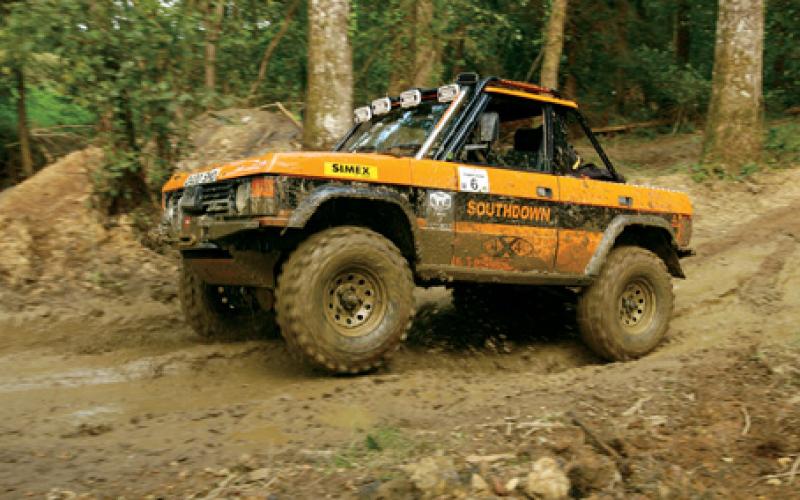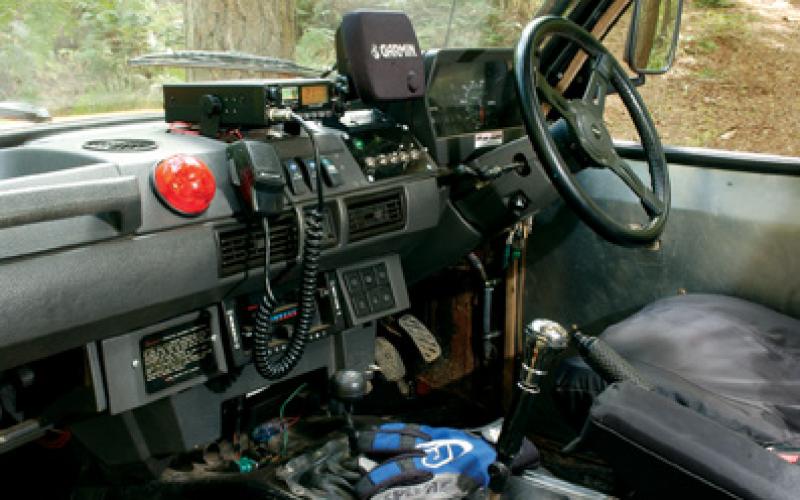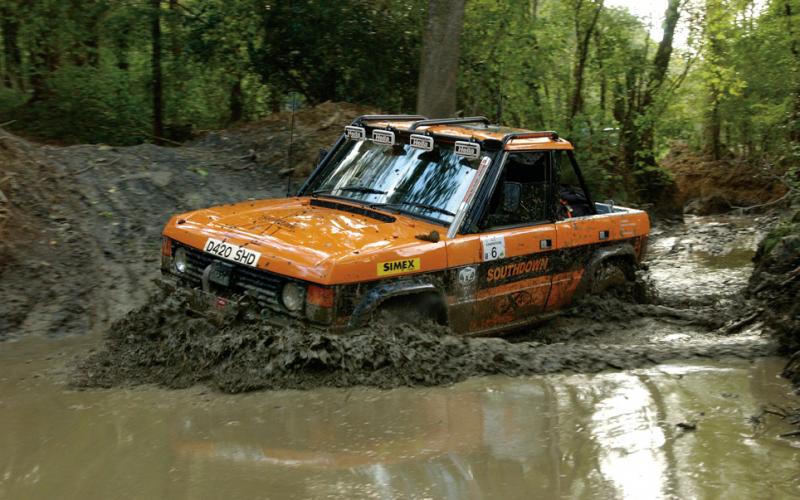 <
>
Nick Walker's Range Rover has a number of distinguishing characteristics: it's a bobtailed four-door that's also been turned into a pick-up, it's a Southdown demonstrator and it's loaded with off-road goodies.  Oh, and did we mention it's also bright orange?
This job puts me in all sorts of peculiar situations. For example, there's the time I was stopped by a security guard in a supermarket car park because he thought I was casing four-wheel drives while their owners shopped. Of course, I was merely attempting to ascertain the most popular 4x4 tyre choice.
On one occasion, a representative from the Countryside Agency drove halfway up a green lane to ask why I was lying belly-down in the earth with a piece of string spread across the track. He clearly failed to realise that I was carrying out a highly scientific piece of research on the level of erosion caused by off-road vehicles in comparison to horse hooves. (There's surprisingly little difference between them, since you ask.)
And there is also the time when, leaving my local leisure centre after a sweaty hour on the squash court, I noticed a beautifully finished bobtailed Range Rover as it wooshed past. Without stopping for so much as a swig of Lucozade, I jumped in my car and fired up its engine, intent on following this eye-catching vehicle wherever it led me.
By the time I made it to the main high street, the Range Rover was already some way ahead and I struggled to keep tabs on its progress as cars pulled out between us. Fortunately, being bright orange in colour, the truck tends to stand out a little in traffic, and I was able to notice when it turned up a side street in what I regarded as a bold attempt to outwit me.
Round the houses it turned, doubling back on itself and slowing down at junctions before speeding up at the last minute and leaving me to frantically play with the gear lever in an effort to keep up with the torque of its 3.5-litre V8 engine. Eventually, after ten minutes of this horseplay, the driver made a fatal navigational error and drove into the car park of a local school.
Seizing my opportunity, I blocked the entrance and ran over to accost him. 'You've been following me, have you?' the driver said with a certain degree of surprise in his voice. 'I hadn't even noticed you were there if I'm honest.' Hiding my disappointment that I had not in fact just been involved in a Bond-style chase around the streets of Cullompton, I heaped praise upon the Range Rover and acknowledged my professional interest, whereupon Nick Walker introduced himself and gave me a rundown of the vehicle's technical specification.
Believe it or not, the truck was once a dark metallic red Range Rover Vogue fitted with an extra row of seats in the boot. Nick runs a childcare business and used it to cart his clients around for five of the last eight years. One day the off-roading bug bit, however, and he decided it was time the Range Rover got serious. His first job was to remove both rows of rear seats and install a roll cage made by Dan Evans of Protection and Performance.
He now had a two-seater mud-plugging machine and set his mind to future tweaks that would heighten its performance in the rough stuff. Nick has long been an admirer of Southdown's range of modifications and began fitting bits and pieces as and when he could afford them. Having seen the firm's stand at shows, Nick aspired to paint his vehicle in the bright orange colour of the Southdown demonstrator fleet.
By coincidence, the company was short of a Range Rover to display its wares and Nick struck a deal whereby his vehicle would be used at shows and he would get special rates on the paint job and future Southdown components that he purchased. And he's not looked back since. Nick continues to be involved with Southdown even though his vehicle underwent some extremely radical modifications earlier in the year. 
Until Christmas 2003, you see, he was content to keep the Range Rover full size and take advantage of the improved potential offered by the range of Southdown components that he had installed. However, he then decided to do something different and began looking into the options available for changing the body shape.
He and local mechanic Ivor Daniels developed an ingenious way of seeing what their ideas would look like before setting about the vehicle with an angle grinder. 'We put a picture of the Range Rover on Paint Shop on the computer,' Nick explains, 'and adjusted it to see what impact modifications would have on its appearance.'
Eventually the team, which included TOR columnist Dave Lovejoy, settled on removing seventeen inches from the truck's length in order to get rid of the large rear overhang that is the Range Rover's most vulnerable feature in off-road conditions. Although Nick was happy to improve his departure angle in this way, he was unconvinced that a bobtailed Range Rover suited his tastes. 'I've always thought they look a little out of proportion,' he remarks. 'But I was eager to get rid of the overhang.'
The solution was found when Nick admitted that he was thinking of converting the Range Rover into a pick-up. 'You don't see many full-length pick-ups around,' he says, 'so I thought that would be something a bit out of the ordinary.' But when it came to the crunch, the team decided that if they were cutting the body around anyway, they may as well do away with everything behind the rear axle and create a bobtailed Range Rover pick-up. And it's fair to say you don't see a vast number of those around, either – especially not when they're based on a four-door donor vehicle.
With the overall shape of his project sorted, Nick had an array of options when it came to the nitty gritty of the build. He chose a 90 front axle with GKN heavy-duty halfshafts to compensate for the strain of 35x10.50R16 Simex Extreme Trekkers – on steel modular rims – and ARB air-lockers.
As he comments, 'I've seen a lot of people break halfshafts on Land Rovers with a set-up similar to mine, and thought it best to reinforce things as much as possible. As it happens, I've never snapped a halfshaft, although I have broken a couple of CV joints.'
The rear axle is a standard Range Rover component, although Nick fitted later hubs and stub axles because he regards them as stronger, and standard 3.54:1 diffs are in place all round. The front one is protected by a 5mm diff pan that has been painted bright orange, while the rear continues to be sheathed in a Southdown guard.
Old Man Emu extended springs and long-travel shock absorbers provide a two-inch lift over the standard Range Rover suspension set-up, and this is augmented by one-inch spacers, supplied by RJ Harveys, to give an overall lift of three inches. The front axle utilises Qt lightened radius arms with a three-degree caster correction while the rear components are kinked in order to maximise the potential articulation. When used in conjunction with the OME kit, Nick claims to have all the wheel travel he needs to cover some seriously challenging terrain.
Because the oversized tyres protrude from the side of the vehicle, and will do so even more once Nick has fitted offset rims in order to recover his steering lock, it has been necessary to fit flared wheel arches to make the car road legal. These were sourced from Devon 4x4 and cover both the Simexes and the BF Goodrich Mud Terrains that Nick fits when green laning and for general use.
They proved a useful guide at the back end, where the team found it necessary to completely rebuild the wheel arches after removing the rear overhang. In fact, although it was by no means an easy task, they used their heads by covering this area of the car's bodywork with aluminium chequerplate. This means that it has a very neat appearance and took some of the pressure off getting the panels beneath completely straight. 'We didn't do a bad job anyway,' Nick explains, 'but the chequerplating makes the overall appearance a lot tidier.'
When Nick was running the Range Rover in standard form, power came courtesy of a 3.9-litre EFi lump. This eventually faltered and Nick, who is a big fan of V8 engines and would always choose one in preference to a diesel for sheer grunt alone, tried to find a replacement. It soon became apparent that the older, and stronger, 3.5-litre Rover V8 engines were changing hands for a lot less money than the more recent alternatives.
'There isn't a massive power difference between the two,' Nick ruminates, 'so it made sense to go with the cheaper option, especially as I may well need to replace it again if I have a close encounter with any deep water.' The lack of wading ability does not actually bother Nick too much as he has tried to waterproof the engine as much as possible with a Southdown snorkel and raised breathers.
The engine is allied to an LT77 five-speed manual gearbox and standard transfer case although this set-up is slated for change in the coming months. Nick wants to adjust the Range Rover's gearing to compensate for the large tyres and suspension lift and is currently undecided about the most effective way to go about it.
He could change the diffs to 4.1:1 ratio units or put in a different transfer case that reduces the gearing. At the moment changing the diffs seems most appealing, although Nick intends to replace the gearbox with automatic transmission so it may be that he decides to whip out the transfer box while he's at it.
Nick's rationale for changing to automatic transmission is that it will improve the vehicle's performance during hill climbs because it will not be necessary to dip the clutch in order to change gear halfway up an incline. This thinking is prevalent among many challenge drivers at the moment and, although it comes with an attendant loss of engine braking during descents, looks set to become even more widespread in the future.
In case the tyres and ARBs fail to offer enough traction, a Warn 8274 provides useful insurance at the front end. This utilises Albright solenoids and an uprated motor that was fitted by Phil Gordon at PG Winches. At the rear there's a Husky unit and both winches are fitted with plasma rope because Nick finds it a lot easier to handle.
A 100-amp alternator charges twin Fiam batteries – chosen to provide the juice because of their competitive price – and the front winch is mounted on a Southdown bumper. This has been set back into the front grille in order to prevent too much of a negative impact on the approach angle.
At the rear, the winch is mounted in the tub to save any overhang and this also makes it easy to access by leaning over the rear tailgate. 'You can see exactly what is going on and it prevents the winch from getting clogged with mud,' Nick enthuses.
Of course, talk about the rear winch is somewhat academic at the moment because when we meet at our photoshoot, Nick admits has never needed to use it.
Of course, that will all change when he starts entering challenge competitions and needs to lower the Range Rover down near-vertical descents. At the moment, his off-roading has been focused on fun days and outings with the J33P Adventure Club as he feels his way into the new vehicle and becomes acquainted with its capabilities and unique characteristics.
By removing the fuel tank from the vehicle's underside and replacing it with twin tanks in the rear loading bay, Nick has limited the risk of damaging it and improved his driving range. 'It now costs about £100 to fill up from empty,' he laughs, 'so I try not to run it down too often!'
The expense of running a V8 is mitigated by the fact that Nick has a normal car to use as his daily driver. He chose a Ford Escort for this, not because he is a massive fan of them but because he knew that by saving as much as possible on his everyday car he could direct more money towards his beloved Range Rover.
He spends any free time working on the truck, and was actively involved in assisting Ivor with the build. There were certain jobs where the mechanic's skill with a welder meant Nick had to take a back seat – such as when the rear bumper was fabricated out of 200x100mm steel box section, for example. Nevertheless, Nick's thumbprint is all over the project and he is proud of the fact that he helped to create it.
Inside, the Range Rover is reasonably standard, with stock seats and the original dash console. Nick has stripped away what he calls the 'frilly bits' – sound-proofing, matting, unnecessary bits of trim – and fitted a Garmin GPS unit and a CB. The ARB controls are mounted on the dash, as are the switches for the Hella auxiliary lights. There's also a lockable cubbybox between the seats.
It seems a bit unfitting, to end a profile of this vehicle with a reference to its cubbybox. I didn't chase Nick to find out how he stores his valuables, but to get the lowdown on what has to be one of the most attention-grabbing off-roaders I've seen for ages.
And as you'll no doubt have realised, there is an awful lot more to this orange fun machine than an unusual paint job and some company decals. Indeed, it's a totally unique vehicle that has been built with the clear intention of creating the consummate mud warrior. If it also has a certain degree of pose-value into the bargain, that's all well and good. But this vehicle is first and foremost an off-roader. What's more, it's a very good one at that.
RANGE ROVER, HUSKY, DIY REAR BUMPER, SOUTHDOWN GUARDS
Share this article