ARB's Latest Touring Kit Now At Arbil
Originally Published: November 2013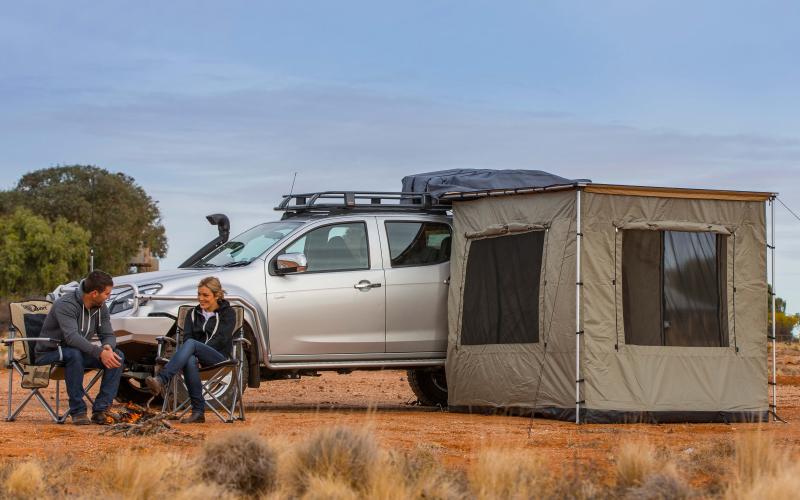 <
>
ARB's name is very familiar indeed to pretty much anyone who's into off-roading, thanks to the Aussie company's legendary range of diff-locks. But back home Down Under, if there's one thing the average off-roader needs even more than a drivetrain to be proud of, it's a truck they can turn into home while they're out in it. That's what comes of living in a country you can't drive across in a day.
Camping is as much part of the 4x4 life in Oz as, say, being whinged at by haters is here. Not that Britain's off-roaders are exactly averse to a bit of canvas action – which is where ARB's latest awnings and touring accessories comes in.
The range includes two sizes of actual awnings as well as a number of ancillary products – an awning room, 3-wall set, wind break and mosquito net. All are made in the same lightweight 300-denier Oxford polyester, and have been exactly colour-matched to ARB's previous ranges, meaning you can mix and match without looking like a patchwork quilt.
What do the two awning sizes cover? The length of your roof rack, that's what. 'There was a need for a long-length awning,' says Phil Rawlings, Sales Manager at ARB's UK importer Arbil 4x4. 'But it needed to give sufficient support to shorter roof racks. The 2000mm width awning is compatible with the majority of vehicles, meaning a perfect fit but still has a long pull-out length – in fact, this awning gives an extra 20% undercover area. For longer racked vehicles, the new 2500 x 2500mm awning is also now available.'
Of course, a major difference between Australia and the UK is that while the weather there is very stable, here it's anything but. If you were at Billing the year it took a direct hit from that storm, you'll know what a bit of Britain can do to anything made of canvas.
Typically, Arbil have thought of that. They've been doing this for a long time, so no wonder. 'The extremes in weather when on exhibitions often mean additional shelter is needed,' continues Phil. 'The awning room is a great piece of kit, designed to function as a fully enclosed room with four walls and a durable floor which adds to insulation. For those not wanting a floor or rear wall against the vehicle, there is the three wall set option. We do recommend that when encountering extreme winds, the wind breaker is considered. The angle of this piece of kit means it deflects the wind over the top of awnings.'
There you are then. If you still think camping is a thing you do in a tent, think again – you've probably already got a 4x4 in your life if you're reading this, and ARB's new gear is exactly the kind of stuff you need to make it into more than just a way of getting about. Arbil is on 0845 600 4556 and at www.arbil4x4.co.uk – and either will do a fine job of getting you the name of your local stockist.
ARB, HOME-FROM-HOME, ARBIL, AWNINGS, TOURING EQUIPMENT
Share this article