Subaru Forester ♦ Vehicle Test ♦
Originally Published: January 2013
Words: Alan Kidd
Pictures: Steve Taylor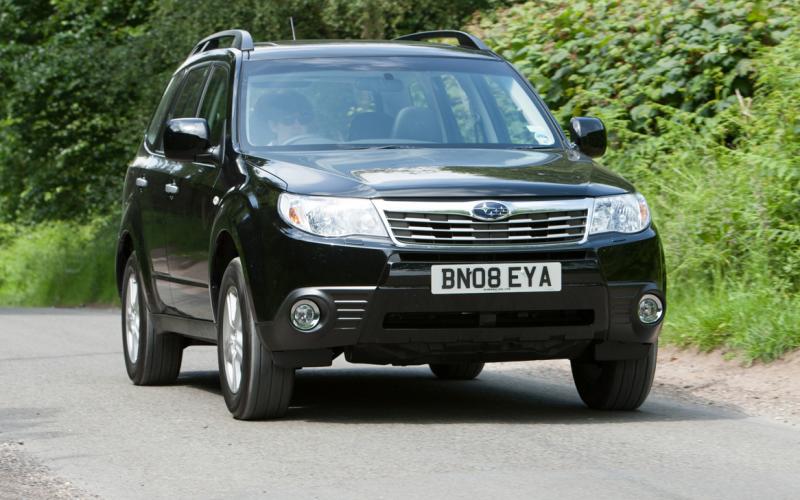 <
>
Subaru's Forester takes to the floor for a TOR review.
Range
The Forester offers a choice of 2.0 petrol and diesel engines. The former comes in two spec levels, each with a choice of manual or auto boxes, while the diesel is manual-only and comes with three different trims.
Buying & Owning
Subaru's reliability record is top-drawer, and the Forester tends to hold its value well. Running costs are much of a muchness, with petrol models using more fuel but diesels costing more to insure. Either way, shop around and you'll find some good discounts.
Inside
The Forester's dash isn't the prettiest, thanks to some low-rent plastics, but it's clear and well laid out. Our test vehicle had nice leather seats and the buttons on the steering wheel had a feeling of quality, as did all the other controls. Stowage around the cabin is generally good, and despite there being an enormous sunroof on our tester the headlining around it was very firm. 
In the back, legroom is excellent and despite a rather high waistline you get a good view out of the side window. When the sunroof cover is slid back, the view forward from the rear seats is verging on the panoramic.
To load cargo, the rear seat backs drop down on to fixed bases to leave a floor that's long but not as flat as you'd like. There's a good low lip to reach over, though, and a wide aperture.
To Drive
As you'd expect from a Subaru, the Forester handles with real athleticism. Its 4wd system endows it with endless grip, and its suspension keeps its body under control if you go off in search of thrills. Like every Forester before it, it really handles.
It doesn't ride quite as well, with an element of bumping on pot-holed roads. This just about stops short of being harsh, but it can feel unsettled around town.
The diesel engine costs £1700-£2000 more than the equivalent petrol model, and it's worth every penny. We only just sneaked in above 30mpg in a petrol example, but the diesels are far more economical – as well as being better to drive, with loads more torque taking the effort out of getting from A to B.
Both are similarly refined on the motorway, though the diesel will be using less fuel as it hums along. Either way, we were delighted to see that our test vehicle had dual-range gears – but disappointed to find that this is limited to manual models with the petrol engine only.
---
Verdict
Typically of Subaru, the Forester does very good things without making a fuss of it – you'd overlook them if you let its first-glance blandness put you off. But its dynamics really are good, and so is its practicality – for a blend of commonsense and fun, it takes some beating.
Share this article