Smart New Wrangler Roof Combo
Originally Published: June 2015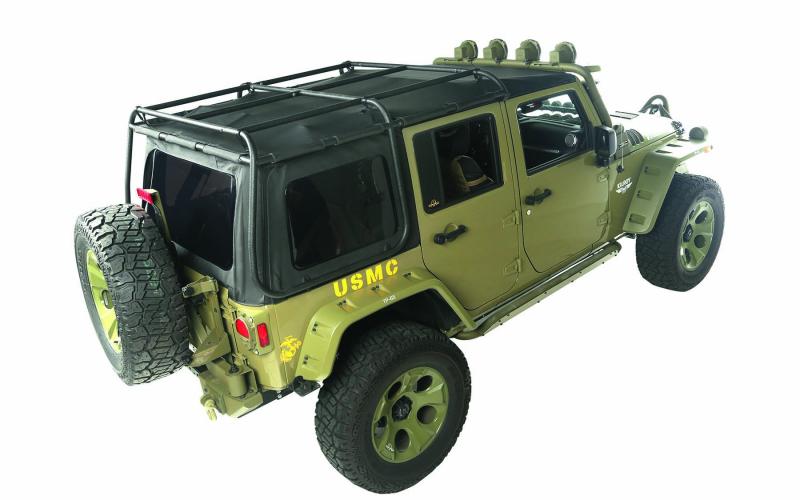 <
>
The Jeep Wrangler is famous for offering hard-top and soft-top options, and the latest JK model gives you the best of both worlds with rigid lift-out panels. But you can always improve on perfection, and that's what Rugged Ridge does for a living.
Hence the appearance of the Exo-Top, which promises to give you 'the convenience of a soft top with the utility of a roof rack.' A direct bolt-on application with no drilling required for installation, this is available now for four-door Wranglers – and it soon will be soon will be for two-doors too.
'The Exo-Top allows owners to experience a Jeep to its full potential for camping, off-roading or as part of any outdoor lifestyle,' says Rugged Ridge. 'It features an innovative Sun Slider retractable function, which allows the top to slide back with the release of just two clips, creating an open-top experience for owners without the hassle of getting out of the driver's seat.'
The exo part of the cage, which provides the roof rack function, has a carrying capacity of 300lb. Integrated within it is an externally suspended soft-top design which fastens using Velcro straps along the perimeter bars of the rack. This all means that you can lower, raise or completely remove the soft-top without having to unload any of your cargo.
'What's great about the Exo-Top is the freedom and versatility it gives Jeep owners,' says Rugged Ridge manufacturer Omix-ADA's Patrick Bennett. 'By combining the soft top and roof rack, it allows Wrangler owners to spend more time enjoying their Jeep in any setting rather than dealing with a cumbersome soft-top and roof rack that were never designed to work together.'
We've only been quoted US prices for the Exo-Top. But whether you have one shipped from over there or order it through a UK agent, they suggest that you'll pay around £1800-£2000 depending on whether you've got a 2-door or 4-door JK. Either way, you can find out more at www.ruggedridge.com.
STORAGE SOLUTIONS, ROOF RACKS, JEEP WRANGLER, RUGGED RIDGE, SOFT-TOPS, ROOF COMBO
Share this article