Lightweight Roof Racks to Suit Every 4x4
Originally Published: January 2015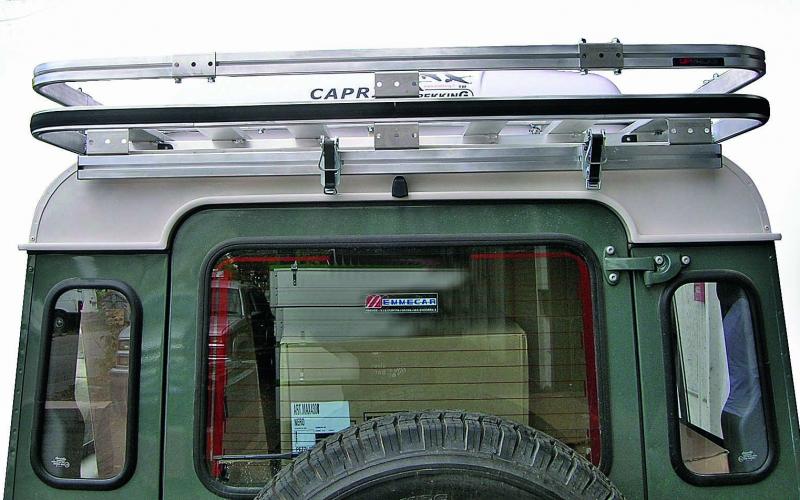 <
>
The latest brand to join the ever-growing stable at XS 4x4 is Upracks, whose Italian-made expedition roof racks promise to offer a solution to fit any 4x4.
The company makes its racks from 100% aluminium alloy, keeping to a minimum the amount of weight added to your vehicle where you least want it. The heavier the rack, obviously, the less it can carry, and Upracks' units weight in from as low as 14kg.
That changes depending on the size of the unit you're fitting, of course, but even the sort of rack you'll need for a big expedition truck should only take a relatively modest bite out of the manufacturer's stated roof load limit. Bear in mind also that any kind of suspension lift will mean you can't carry as much up top and the need for keeping it as light as possible is more obvious than ever.
The basic rack is a simple platform, available in a huge range of sizes from 1097 x 907mm up to 2846 x 1477mm. In each case, you can choose between black and polished aluminium finishes.
Beneath this, fitting is taken care of by leg kits which are available for vehicles with and without gutter rails. These come in four different heights, too, and are supplied in pairs so you can decide how many you need – Upracks itself suggests a minimum of three per side, and that for a large rack carrying its maximum weight you should go all the way up to seven.
If your vehicle is already fitted with roof mounting points, on the other hand, Upracks will also supply a custom kit to suit it. So whatever you drive, there'll be a solution here for you.
There's also a huge selection of accessories in the manufacturer's product range, including ladders, fairings, storage boxes and attachment points for jerry cans, sand ladders, jacks, spare wheels, CB whips and more. The racks themselves are designed with a slot for bolt-in fitting using a special M8 rectangular nut, and all the hardware the company supplies for racks and accessories alike are either stainless or galvanised.
The racks' clever modular design means they're as flexible a solution as you'll ever find, and with universal mounting hardware and walkable platforms also in the options list you're unlikely to ask a question the company can't answer. To put that to the test, visit the UK importer's website at xs4x4.parts.
ROOF RACKS, XTREME SALES, STORAGE SOLUTIONS, UPRACKS
Share this article