All-In +4" Kit For Land Cruiser 80
Originally Published: November 2013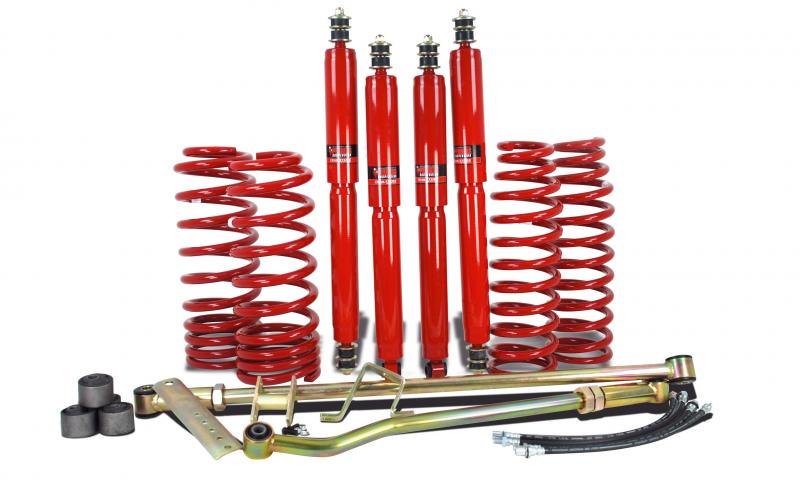 <
>
We've just had a Pedders suspension kit fitted to our Land Cruiser Colorado. This is a spring-and-shock job that lifts its ride height to around 2" over stock, but if you've got an 80-Series Land Cruiser and like the idea of making the best 4x4 ever made even better, Pedders' new 4" kit could be your perfect ally.
This contains everything you need to complete the lift, all the way down to a set of extended brake lines. In Pedders' own words, 'simply fit the parts, get the vehicle wheel-aligned and you're ready to go!'
Available for vehicles with and without ABS (as well as for the live-axled 105-Series version of the later 'Amazon' model, whose absence from the UK market is one of the greatest travesties in the history of the human race), the kits include Pedders' TrakRyder raised extra heavy duty coil springs and long-travel foam-cell shock absorbers – as well as replacement anti-roll bar links, alignment products, extended brake hoses and assorted chassis parts.
All the items in the kit are designed to be 'more suited to rough terrain driving conditions.' Pedders is a well known name back home in Australia, and they know a thing or two about this subject – we had their springs and shocks on our old Patrol, and the kit on the Land Cruiser is already impressing us. We're talking premium hot-wound, stress-relieved springs and 40mm bore shocks with enlarged oil capacity – and if you're really serious about it, Pedders also offers extended heavy-duty trailing arms and drag links as well as wide-bore steering dampers to make the most of the enhancements the kit  already offers.
With that lot in place, an 80-Series will become one of the most formidable pieces of kit you could imagine. Not that it isn't already, but you know what we mean.
A year or so since arriving in the UK, Pedders is rapidly growing into a serious new player in the suspension game over here – very well worth looking at, whether you're after hiking a Cruiser by 4" or just looking to do something more modest to your 4x4. Pedders' UK importer is at www.pedders.co.uk – as is a whole lot of temptation for anyone who appreciates really good off-road suspension.
LIFT KITS, PEDDERS, SHOCKS, SPRINGS, TOYOTA LAND CRUISER
Share this article