Full Suspension Lift Kits For Wrangler
Originally Published: August 2014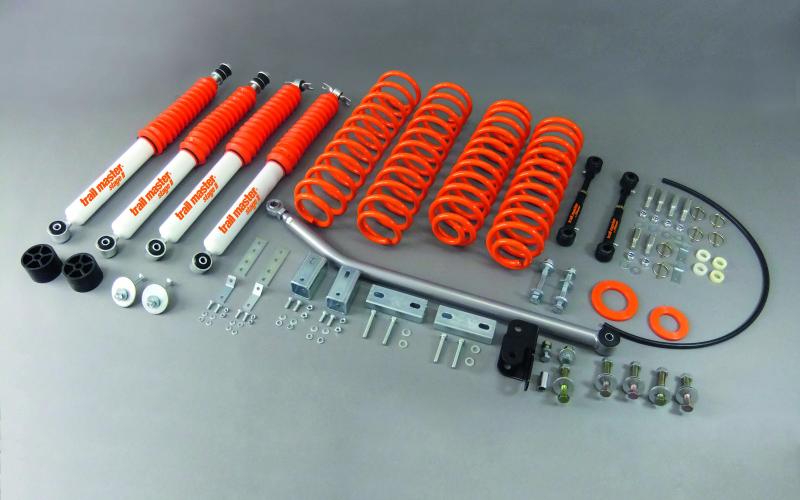 <
>
Total Off-Road sees quite a few Trailmaster products, but they tend to be specific items such as the sway-bar links we previously wrote about. The company also does full suspension kits for the Wrangler JK, though, and by 'full' we do mean just that.
The range covers all the different JKs you can get, whether 3-door or 5-door and petrol or diesel. They even do one to suit the Rubicon model, which only sells in tiny numbers over here.
There's also a couple of lift options available, hiking the truck by 50 or 75mm (basically 2" or 3"). Trailmaster promises 'significantly improved' off-road characteristics, saying that 'each suspension system is individually composed for the driver and the intended usage.'
As well as springs and shocks, the kits include everything you need to fit them and adjust the vehicle to suit – trim packers, new steering arms, brackets and hardware, lowering brackets for the anti-roll bars and eccentric bolts for caster adjustment.
Prices for the kits basically split along two lines, irrespective of which JK you've got. If you want the 50mm lift, the German manufacturer's recommended price is 665.33 Euros, while for the 75mm kit it's 1164.00 Euros. In both cases, the price is plus VAT, and you can find out more by paying a visit to Trailmaster's site at www.trailmaster.de.
LIFT KITS, JEEP WRANGLER, TRAIL MASTER
Share this article