The One And Only
Originally Published: June 2006
Words: Tim Gibson
Pictures: Steve Taylor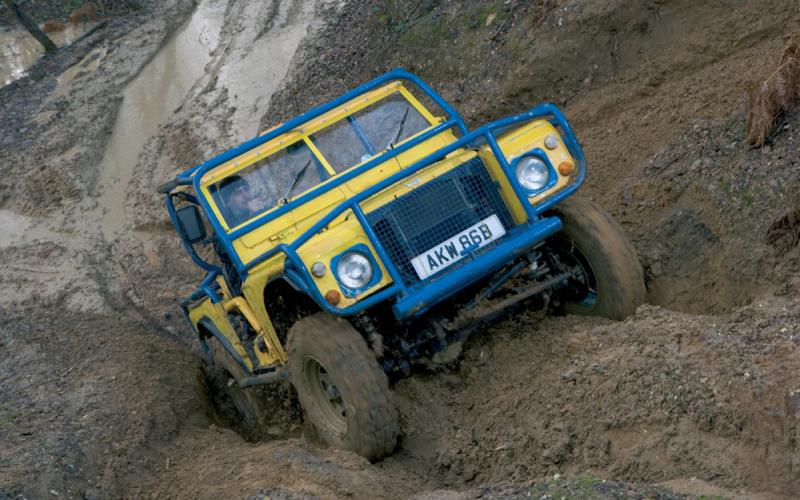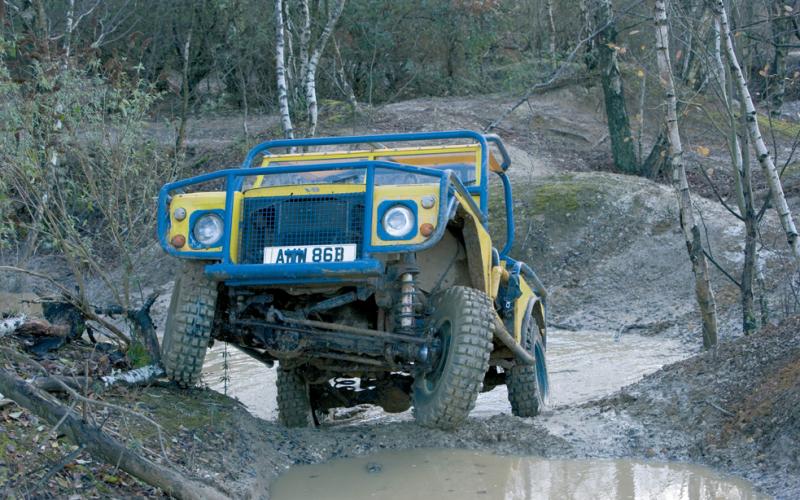 <
>
Alan Davis says his Land Rover Series IIA is the only 4x4 he'll ever own. He bought it seven years ago, and in the intervening period has turned it into a hardcore mud warrior. It'll go anywhere, he reckons – but it will never stop being a work in progress…
When Alan Davis bought his Series IIA, he had one intention – to turn it into a hardcore off-roader that would be practically unstoppable in the mud. The result is a Land Rover that is extremely capable in the rough stuff and features a number of imaginative modifications.
The fact the project has been developed on a limited budget only adds to its appeal, and Alan regards it as his pride and joy. 'This is my first and only 4x4,' he vows, 'I'd prefer to carry on refining this one rather than buy another.'
Alan's sense of attachment to his vehicle is unsurprising when you consider the amount of time he has lavished on it. He works as a mechanic for Chichester 4x4, in West Sussex, but he never tires of playing with off-roaders. 'It's my work and my passion,' he explains. 'I can't think of anything better to do with my time.'
This enthusiasm explains why the vehicle has undergone such a number of alterations in the past seven years. Alan started modifying it the day he bought it – and he doesn't look like stopping any time soon.
If the vehicle is officially still a Series Land Rover, it is best described as a true hybrid. The entire front end comes from a Range Rover, as does the engine and transmission, and Alan has made a number of significant changes to the chassis.
After installing a carburetted 3.5-litre V8 engine, Alan decided he would like to have coil-sprung suspension. In order to provide the relevant mounting points for the more modern configuration, he removed the front section of the Series chassis and replaced it with the equivalent part of a Range Rover frame. 'I took two and a half feet off the front of a Rangey,' he explains, 'and grafted that on to the original chassis.'
With the front section now utilising Range Rover parts, the suspension conversion became a lot more straightforward. It was still necessary to alter the axles in order to fit coils rather than leaf springs, of course, but this involved nothing more than changing the spring mounts. Instead of the original Range Rover set-up, Alan opted to use a panhard rod for lateral location, figuring that this would be the least labour-intensive route to take.
Standard radius arms are used at the front and rear, and they are mounted on lowered turrets at the front in order to improve wheel travel. The rear shocks are mounted 'in-board' for the same reason. This reduces the distance between them and the wheels, which means that the most can be made of their full extended length.
The shocks are Rancho RS9000s, which are gas-damped. Their firmness can be adjusted by a switch which is located in the cabin, meaning Alan can set them up to suit whatever conditions he happens to be driving in. They are used in conjunction with standard Range Rover springs, which were a deliberate choice on Alan's part. 'I didn't want to go any longer with the springs,' he explains, 'because I was worried the car would become too unstable. As it is, the Range Rover components provide all the flexibility I need and I don't feel as if the car is wandering all over the place. Anyway, it hasn't toppled over yet!'
It's this that allows the use of the panhard rod for axle location. Lifting the suspension would cause it to pull the axle over to one side, ultimately resulting in the vehicle crabbing, but by keeping ride height standard this doesn't become an issue.
Extra traction is guaranteed by virtue of the ARB locking differentials that are fitted in both the front and rear axles. These are complemented by Ashcroft hardened halfshafts, which are themselves used in conjunction with grooved stub axles. This intentional weakening of the stub axles means they are a sacrificial fusible link in the configuration – ensuring they will break first in order to protect more expensive or harder-to-replace components such as the halfshafts.
When the carb engine finally became too slow for Alan's tastes, he fitted a 3.5-litre EFi lump. This led to a massive improvement in power and was much better suited to the three-speed automatic gearbox that was in place at that time.
He celebrated the arrival of 2006 by performing a third engine transplant, however. This time, he fitted a 3.9-litre EFi power plant and married it to a Borg Warner 66 three-speed auto gearbox. This transmission arrangement is able to cope with the large amount of torque flowing through it, and the newer engine makes off-roading an absolute breeze.
The installation of a Range Rover front end also enabled Alan to replace the Series steering with a power-assisted set-up, which makes life a lot easier in tight spots off-road. Given that Alan's regular 4x4 playday excursions take him to Slindon Safari, which has a number of narrow wooded sections, this has proved to be a real bonus.
Further work to the chassis involved shortening the rear overhang. This leads to an improved departure angle (in fact, the drop-off is nearly vertical) and means that the Land Rover's overall length is not much more than its 88-inch wheelbase.
The benefits of this are not just related to the improved ground clearance. The removal of large chunks of the chassis and bodywork also means that the Land Rover's weight is significantly reduced – as well as being concentrated between the axle lines, meaning better overall balance.
The weight saving continues with the cabin – Alan has opted for a bikini top (made by his mother-in-law Janet) and doesn't even bother with doors. When coupled with the increased power that comes from the engine transplant, this makes the vehicle's performance extremely impressive.
In fact, if it wasn't for the fact that Alan's favourite form of off-road driving is in slow-paced challenge-style conditions (as indicated by the waffles, which are mounted above the custom fuel tank in the rear), you could be forgiven for thinking his vehicle was a comp safari racer. The styling is certainly akin to this type of vehicle, and the rear fiddle brakes only add to the impression that here is a 4x4 designed for high-speed track-bashing rather than deep mud.
'Fiddle brakes are useful no matter what speed you're travelling,' Alan explains, 'because they enable you to turn the car on a sixpence. They can also be used as a kind of poor-man's diff lock, although that's less of an issue for me because I've got the ARBs.'
The roll cage is substantial, which is good when you consider that it is the only solid protection for the vehicle's occupants. In the absence of doors, Alan has welded a pair of side bars around the appropriate apertures, and these provide valuable peace of mind for anyone sat beside him.
Although Alan's skill as a mechanic has undoubtedly helped him to keep costs down, the vehicle is nonetheless an impressive example of what can be achieved with a bit of imagination. He has not spent any unnecessary money – favouring budget 7.50x16 Maxicross tyres over anything fancy, for example, and mounting them on run-of-the-mill white eight-spokes. This has freed some funds for more expensive components such as the Air-Lockers and the engine and transmission – and even here, Alan has tried to keep a tight rein on expenditure.
The result is an estimated overall build cost of about £8000. Spread over the seven years that Alan has owned the Land Rover, that equals little more than a grand every 12 months – which is more than some people spend on tobacco or CDs in the same period.
Such sums are a bit academic as far as Alan's concerned, of course. For him it is impossible to put a price on the vehicle: it's brought him years of pleasure, and his commitment to continually developing the project means it will do so for a long time yet.
Alan Davis achieved his intention of producing a hardcore off-roader a long time ago, then. Now, his focus is on making it better than ever…
ARB AIR-LOCKERS, SERIES IIA, SERIES LAND ROVER, DIY ROLL CAGE, ASHCROFT HALFSHAFTS, RANCHO SHOCKS, TRIALLER, RANGE ROVER ENGINE CONVERSION, HYBRID CHASSIS, RANCHO RS9000 SHOCKS
Share this article