True Colours
Originally Published: January 2007
Words: Alan Kidd
Pictures: Steve Taylor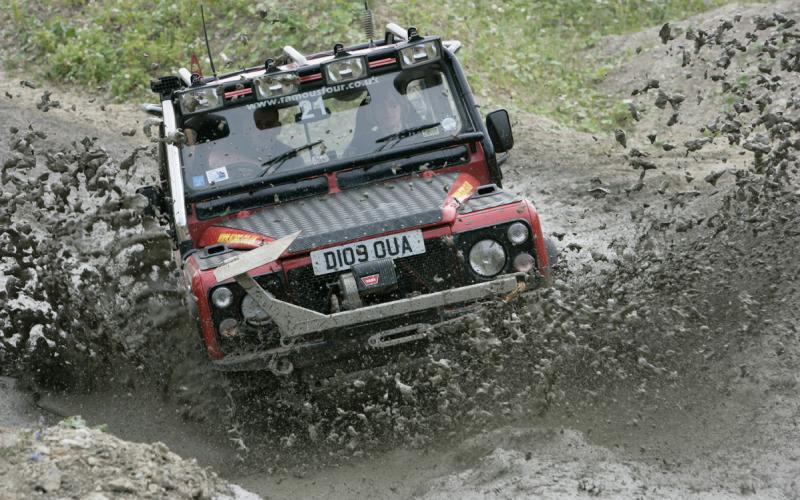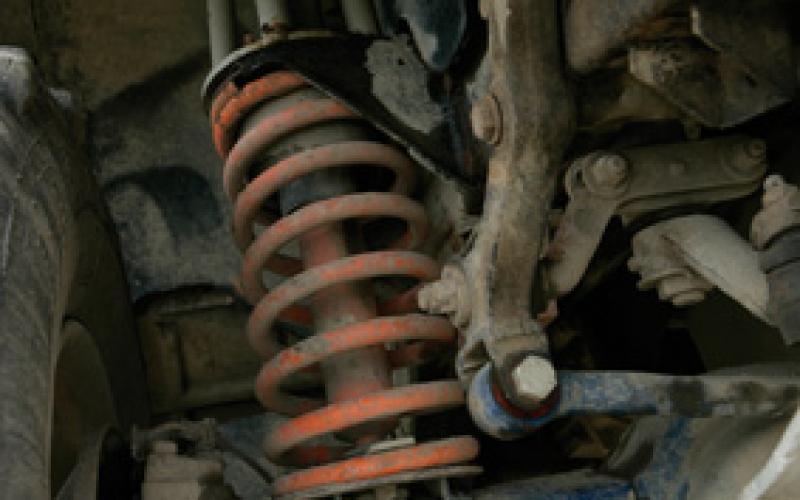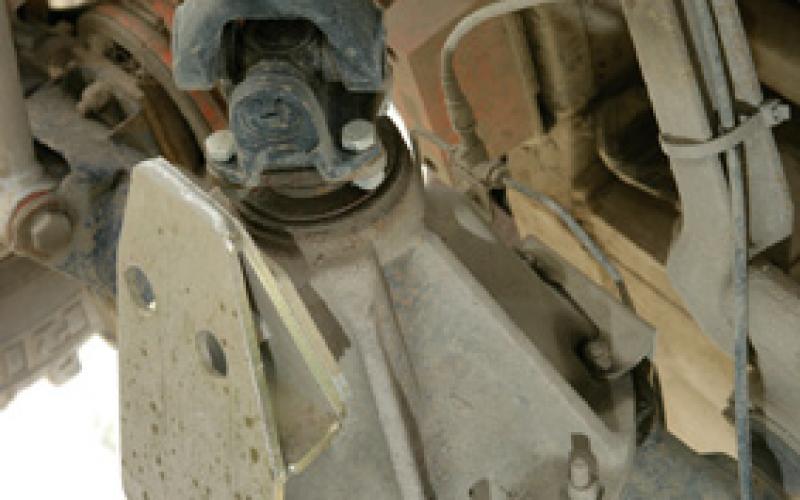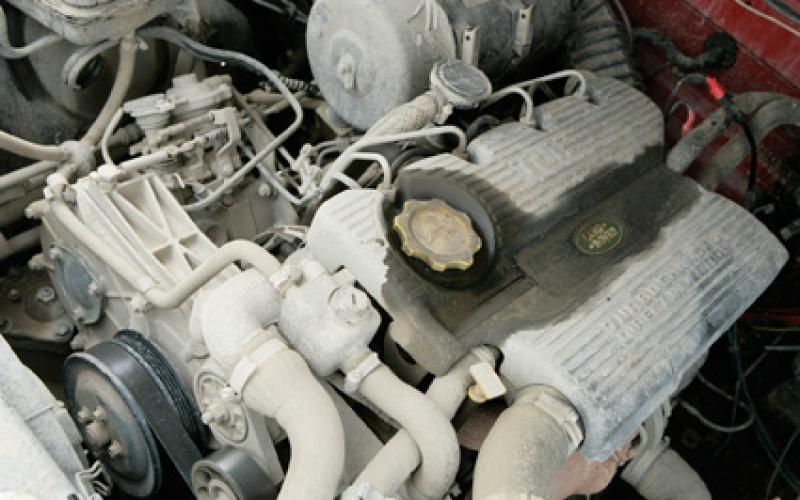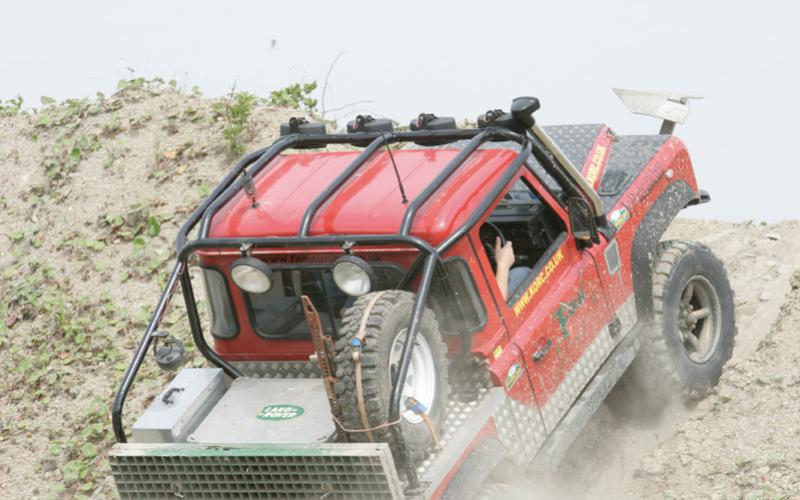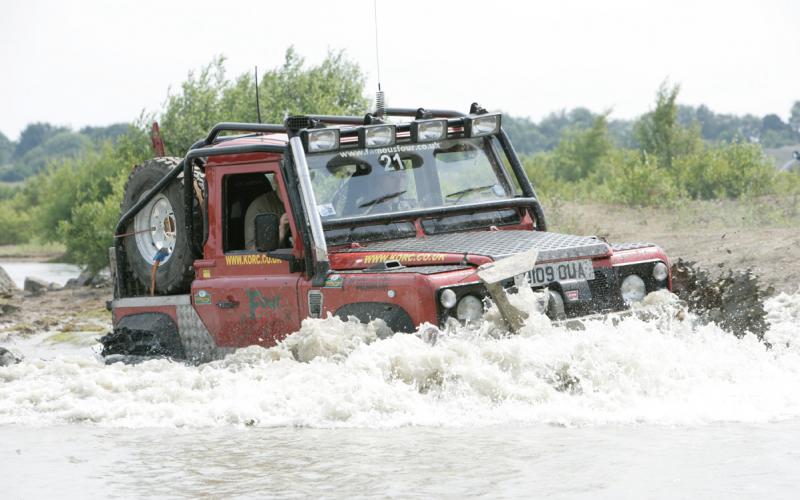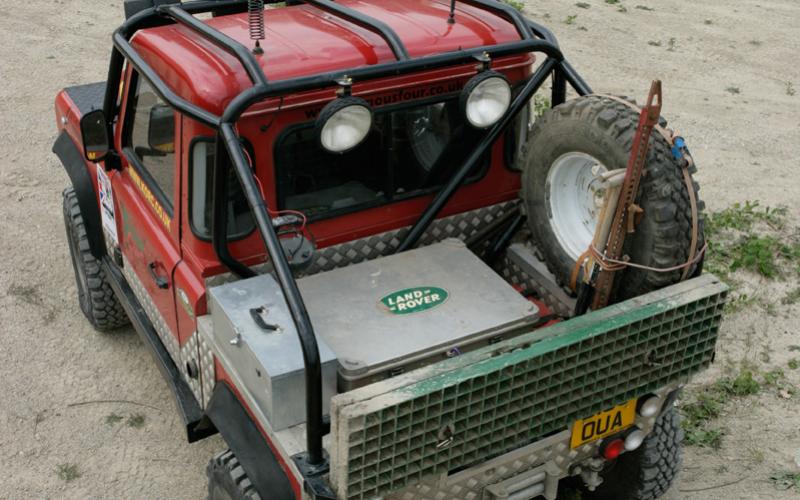 <
>
Jason Garrett's 90 has been through two body styles, four engines and five different paint colours in its life. No wonder he's thinking of making some major changes to it, then…
It's not unusual for an off-road project vehicle to go through many forms during its life. Few, however, can have changed their appearance as often as Jason Garrett's Land Rover 90, whose life story includes at least four different engines and five colour schemes.
Originally a 1987 military model, the 90 started life at Humberside Airport. It was pensioned off in 2002, which is when Jason took it on. 'It was bright yellow,' he recalls. 'Since then it's been red, then blue, then black, and now it's back to red again!'
Jason has indeed been willing to ring the changes all round on a vehicle that was bought with the express intention of turning it into a serious off-road challenge truck. Hence the succession of engines at the head of what has become a completely unrecognisable drivetrain.
'When I got it,' admits Jason, 'it had a 2.5 normally aspirated diesel. I fitted two of them, but I couldn't get used to them. The first one broke down; it blew up. I couldn't handle the lack of power anymore, it was driving me insane. So I fitted a 3.5-litre Range Rover V8 – I fully rebuilt the engine and transmission, but it just didn't like water. So I decided to get rid of that and invested in a 300Tdi instead. And that's where I've been ever since – it's the way to go.'
The engine, which was sourced from Amazon 4x4 in Market Rasen, close to Jason's home town of Louth, started life in another 90. Jason removed the EGR unit, and when we spoke to him was in the process of fitting a bigger intercooler, something he intended to augment with tweaks to the fuel pump. 'It does seem to lack power, really,' he reveals. 'It's got loads of low-down torque, but my mate's got a 200Tdi and he beats me every time!'
Downstream of the engine is a R380 gearbox with a 1.4:1 transfer box, but that's also slated for change. The prime candidate for the job is a 1.6:1 unit from a 110, although that's not Jason's dream option: 'I'm thinking about going to the Ashcroft crawler box, the underdrive. That's a lot of money, though, and I'd have to do a lot more upgrading as well – I'm still running a 10-spline front axle, and that's due to change. The rear end's uprated, though, that's got a Discovery 24-spline axle with a four-pin diff. It's still using standard halfshafts all round, though, but I'm planning to go to 24-spline Ashcroft shafts all round with ARB lockers.'
Connecting the axles to the chassis is a Scorpion Racing Evolution kit, with modded rear spring mounts providing another inch or two of lift. So how much does that give him in total?
'It was a two-inch lift when I bought it,' he says, 'but over the two years I've had them the springs seem to have sagged quite a lot. I don't know which ones they are – they came as part of the kit. But they just don't seem to be holding out as well as I'd hoped. So I intend to change them – the rest of the kit seems to be okay, so I shall be sticking with those parts that came with it.'
He might, however, also go on to replace the DeCarbon shocks supplied as part of the Scorpion kit with something longer. 'I'm sure there's a bit more travel to be had in there somewhere!' he exclaims.
Fitted using lowered mounts, these have seen a lot of hard life but remain up to the task. 'I've had to straighten them out a few times where they bolt to the axle, but they've lasted well – they're not leaking at all. And they do get put under a lot of stress.'
Assisting the springs and shocks is a set of cranked rear radius arms – another part of the ever-popular Scorpion kit. All this inevitably puts the propshafts under pressure, so Jason has used a set of wide-angle extended-yoke units from Devon 4x4. 'They seem to be working very well,' he reports. 'I'm very happy with them.' So happy in fact, that although he has a double-cardon front prop, he hasn't actually got round to fitting it yet.
Something else he didn't get round to fitting for ages after buying it was the truck's smart-looking Southdown snorkel. 'I don't like powder-coated ones because they tend to flake after a while,' he admits. 'I like this one because it's stainless. I bought it two years ago at a show, but then I didn't get round to fitting it for ages – I was finally prompted by all the water I kept going through!'
Protection of a different kind is provided by a roll cage made from 50mm CDS with 4mm wall thickness. Mounted to the vehicle's chassis, this has an impressive set of credentials for a home-made unit: 'I spoke to Dan Evans at Protection and Performance,' says Jason, 'and he gave me a lot of the information I needed to get the cage up to a decent spec.'
The cage's front hoop shares a mounting point with the front end of a set of rock sliders made from 5mm box. Also home-made, these go back on outriggers and are mounted to the chassis on 5mm plate; at the back, they're located to the same point as the rear tub.
The fact that it has a rear tub at all is testament to Jason's ever-changing ideas about the vehicle. It was originally a three-door van before he got to work on the full strip-down and rebuild that brought it to where it is today. 'When I started off, it was going to be a trayback. But I wasn't sure about the legal issues at the time, MOTs and stuff, and I was trying to get it done very quickly for the Bulldog last year, so I just shortened it down and did it like this. But I've since looked into the legalities of it and it doesn't seem to be a problem to have it traybacked. A lot of people are going that way now, weight-wise.'
Even so, as pick-ups go this 90 is no normal example. It's bobtailed at the back, and boasts a departure angle that actually exceeds 90 degrees. Jason did this by removing twelve inches from the back of the chassis and replacing it with his own shorter section made from 2-inch 50mm box. Keeping the wheelbase as it was when the vehicle left Solihull, he used a Hi-Cap bulkhead to finish off what was left of the bodywork at the front. 'I haven't tried it yet,' he confesses. 'But if I had bigger tyres on it, I could definitely reverse straight up stuff.'
That'll be even easier once the trayback design is in place: something he plans to execute using a tubular structure. In the meantime, there's no shortage of heavy metal to assist the rock sliders in their task of keeping the vehicle safe and sound when all those inevitable impacts occur with terra firma.
This includes a front steering guard from Famous Four, which supply a lot of Jason's accessories as being one of his sponsors. 'I use them for a lot of my parts,' he says. 'I've bought pretty much every single consumable on the truck from there. They tend to find me all the parts that nobody else can.'
Further strengthening includes a Qt guard on the rear diff, which has clearly met with Jason's approval as he's now considering fitting one of the company's axle guards as well. There's already a unit in place, but Qt's would allow him to save some weight while also gaining a little extra ground clearance. 'It does the job,' he says. 'It's very strong, it's saved me from a few rocks. But I think it's worth the risk to have a smaller bar on it.'
At more or less the opposite end of the vehicle is an aluminium fuel tank guard from Southdown. 'That was from smashing my tank last year at Kirton,' admits Jason, 'on a nice big rock.'
Back at the sharp end is a front bumper Jason made himself. 'I already had the middle section, then I remade the ends. The cradle was originally sat in another bumper – it was lower down, and I kept hitting it into the ground all the time. So I moved it up and into the grille, and strengthened the mounts and the cradle, because it kept flexing and it was causing earthing problems with the winch. So I braced it all round; it was originally held on by the bumper mounts, but I've braced it further back now to the chassis rails. The extra lengths are made out of 5mm steel box-section, so they'll take the knocks!'
Adorning the bumper is a Warn M8274-50 fitted with 1mm Plasma 12-Strand winch rope. 'That's doing really well,' he says – 'I've only snapped it the once!' This turns out to have been when he got the rope wrapped around an axle on last year's Bulldog. 'It was a night section, and I couldn't see where the rope had gone – so I blame the navigator for that one!' One thing's for sure – you certainly can't blame the winch rope for letting go under such extreme circumstances.
Another M8274 sits on the rear bumper, this one with a 4.6hp Come-Up motor. 'I had it rebuilt by PG Winches,' says Jason. 'I bought it from them rebuilt – it was cheaper than a new unit and it had an uprated motor on it.'
A prime attraction of using the same make of winch for the front and rear is that there's a great commonality of parts between them. This means Jason doesn't need to carry around as many parts as he otherwise would and, if the worst comes to the worst, the rear unit can be used as a plug-and-play replacement for the front. The same reasoning applies to his use of Allbright solenoids front and rear; he chose these in the first place because he considers them to be more waterproof than Warn's own.
Further belt-and-braces mods include various appliances of chequer plate to prepare the vehicle for being crawled all over, and NAS-spec lights all-round. Like the Allbrights, these are a lot more resistant to water than the standard Land Rover units, as well as being brighter and easier to change. Jason also uses an X-Eng disc handbrake, which he rates as excellent, and one of the same company's X-Shaft halfshaft extraction tools has a permanent place in his kit box.
None of these mods are particularly uncommon, but there could be few off-roaders who wouldn't nod with approval at the ingenuity that's gone into the 90's exhaust. This is a modified 300Tdi system which has been routed to keep it as far away as possible from land and water alike. 'I found that if I ever cut out in water, and the water went up the exhaust, because of the tight space it goes through it's not very easy to get off. So I tapped a hole in the bottom of the exhaust and threaded in a bolt which acts as a stopper, so there's actually a drain on it.' That's the kind of thing you only think of when you've been doing off-roading for a while.
Not that Jason has any reticence about spending money when that's what it takes to get his hands on the right thing. Currently on his wish list are David Bowyer's new twin-motor winch, Max Traction's much-rumoured three-link non-disconnecting suspension and 36-inch Simexes, which would replace the Bronco Grizzly-Claws currently fitted.
All of this would change, however, if Jason was to take the plunge and create his next off-roader. Not least because when he does so, the 90 will go straight from being one of Britain's best extreme off-roaders to being one of its most eye-catching donor vehicles.
'I'm considering going to a 100-inch wheelbase now,' he says, 'probably on a Discovery chassis. So it's a case of whether to do it to this one or start over with a new vehicle. I might also extend the cab while I'm going to a trayback style, as my partner and two kids have started coming too!'
You hear about people getting into off-roading because they started off running a 4x4 as a family vehicle, so why not the other way round? Jason's 90 is a classic example of the old truth that there's no such thing as a finished project. There is, however, such a thing as a well rounded piece of work, and having been through so many stages of development that's certainly what the vehicle has become.
Which just leaves one question, whether he reworks this one yet again or rips it apart to help create a whole new Land Rover. And that, of course, is: what colour is he going to paint it this time…?
X-ENG X-BRAKE, WARN 8274, DIY ROLL CAGE, SOUTHDOWN SNORKEL, SCORPION SUSPENSION, DEVON 4X4 PROP, FAMOUS FOUR STEERING GUARD, 90, DEFENDER
Share this article